Central Florida Quilt Trail
We are a not for profit group that has sponsored the Quilts and Tea Festival in Davenport, Florida since 2001. Our festival is a community effort that over the years has brought visitors to our city from as far away as Zambia, South Africa, Ireland, England and South America. We are involved in many events and projects in our community and therefore when we discovered barn quilt trails throughout the United States, we said "imagine Davenport" and Central Florida having their own quilt trail. Thus was born the CENTRAL FLORIDA QUILT TRAIL.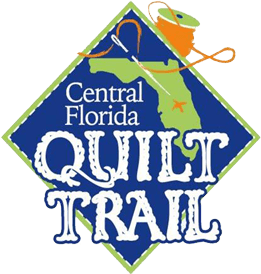 May 2015 was the beginning of "The Central Florida Quilt Trail".  We are putting up hand painted quilt squares in the city of Davenport, beginning with Grandmother's "Yellow Basket', with oranges, painted by the Quilt Square Girls of West Jefferson, North Carolina. Knowing that we needed our own in-residence artist we have contacted several local artists and schools who will be painting our beginning squares.
Do you want to be a part of the Central Florida Quilt Trail?
"A Davenport Quilts and Tea Committee Project in Partnership with Davenport Historical Society"
Each of the squares is a history repository of the site where they hang. We feel this is giving a voice to the buildings and to the occupants who host these squares. Visiting the squares throughout Central Florida is a great way to discover what our communities and counties have to offer. We think these quilt squares mirror who we are. The more squares we put up, the more visitors we can expect to drive through our cities and counties and impact our businesses and events.
An additional benefit to be realized from the creations of the squares will be some new jobs for those involved with painting, hanging, making art objects, jewelry and other items to be sold as gifts.
These quilt squares will bring positive publicity to our area along with tourists who have experienced these squares in other states.
We would like to involve artists, individuals and organizations who will be inspired to bring the beauty and community involvement to their city and county.
If you would like to have your very own quilt square and tell your story or family history please contact the Central Florida Quilt Trail Committee Board by emailing: quiltsandtea@msn.com or call 863-221-1021 or 863-258-7800.